Healthcare Provider Portal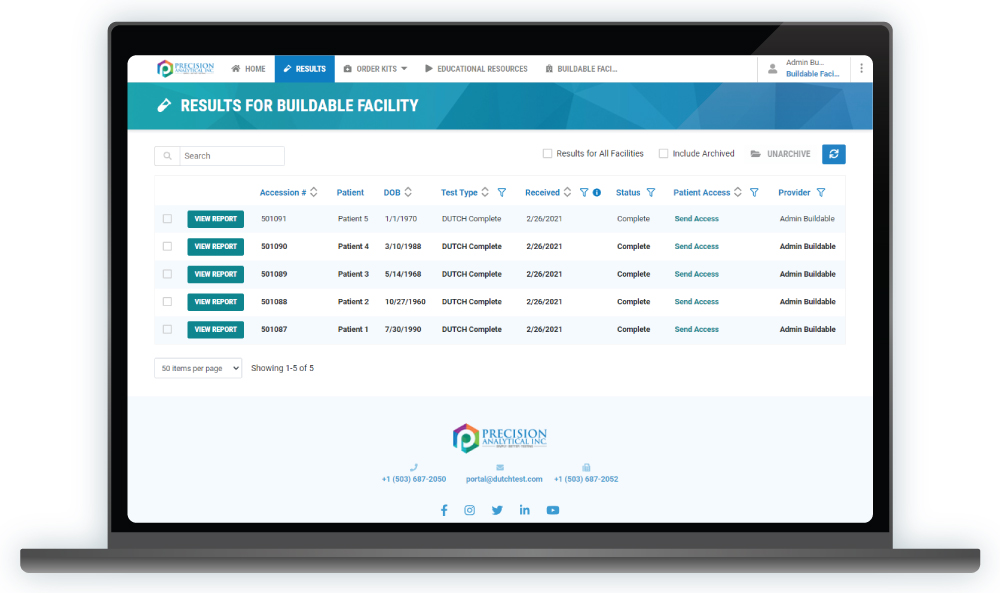 About
This project is both an internal portal and customer-facing provider portal for an international laboratory testing company. As this company was experiencing exponential growth, it had outgrown its legacy software. Buildable first integrated with the legacy system, then rebuilt the customer-facing provider portal, and continues to build out the custom platform for all aspects of the enterprise management.
Applications and Features
Provider Portal, Dynamic Reporting, Marketing and Announcements, Facility Management, Provider Management, Patient Management, Secure Login, CRM, Ecommerce
Services
Business Analysis, Systems Analysis, Product Management, Database Architecture & Design, Frontend and Backend Development, UX/UI Design, IT Services, QA/Testing, Deployment, Maintenance
Tech Stack
.NET Core, Angular, jQuery, ReactiveX, Bootstrap, Entity Framework, C#, JavaScript, LINQ, TypeScript, SQL, Shell Scripts, HTML, CSS/SCSS, JSON, XML, SOAP, CSV, SQL Server, Linux, Azure
Integrations
Nutshell CRM, EMRs, HL7, USPS
---
Testimonial
"Everybody here is more excited about the look and feel and being able to finally get live data. With the old system, we had to export text files and it always took a day. We're all excited to have something new, fresh, and with more functionality. The reports are more dynamic, and we can actually scale them.
I found the best thing I liked about them is their communication. We were never left in the dark, like with other development companies. They were never afraid to show me their code, so I could always see what they were working on."
Adolf Valdez
IT Manager