Pay Equity Application for Employers - Parity Software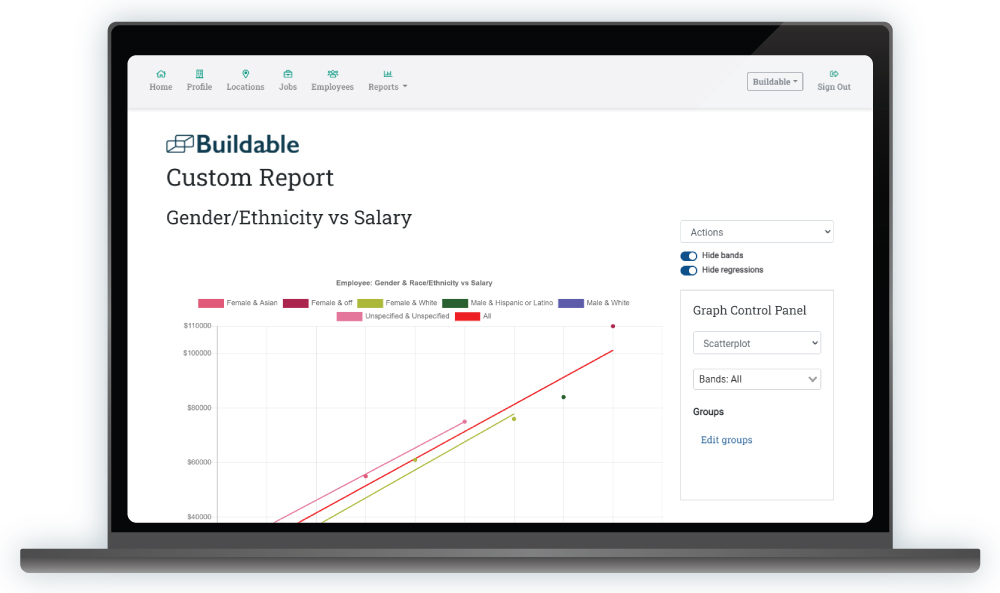 About
We rescued this project from confusing and broken UI, messy code, and dated design. We redesigned the interface with a more modern look that follows the customer's brand, including a new, minimalist customer dashboard. We cleaned up and fixed the broken, existing logic and added missing logic in the code, especially in the company, employer, and employee surveys.
We expanded the pay equity reporting functionality to include two new reports: employee pay review — which displays an overview of the employee's information and identifies opportunities for career development, such as achieving new educational levels and gaining new technical skills — and new hire placement — which generates a suggested salary range for the selected position. We also redesigned the job PDFs with a simplified, modern look. We added a "Tips and FAQ" section to address common customer questions.
Applications and Features
Human Resources Portal, Dynamic Reporting, Customer Dashboard, Shareable Employer and Employee Surveys, Survey Editor, Company Profile Wizard, Secure Login, Public Account Registration, PayPal Integration, Ecommerce/License Purchasing, Payment List, Intercom Integration, Employee Management, Locations Management, Jobs Management, CSV Imports, Algorithm-Based Reporting, User Management
Services
Frontend and Backend Development, Usability Analysis, UX/UI Design, QA/Testing, Deployment, Project Management, Product Management, IT Services, Business Analysis, Systems Analysis
Tech Stack
Vue, PHP, Bootstrap (CSS/SCSS), HTML, JavaScript, jQuery, MySQL, NGINX, Linux, AWS, JSON, CSV
Integrations
PayPal, Intercom
Compliance
HIPAA, ADA, PCI, GDPR
---
Testimonial
"Their knowledge about current technologies and software development helped to produce a platform that looks like a 2021 product.
They were able to accept our ideas and turn them into working software. Buildable is one of the few companies that we've met that can understand non-software engineers when it comes to product definition and design.
We used Zoom to communicate. They run an Agile-based system with sprints, so they're on top of the project. Buildable has a sensible and intelligent approach. A lot of people have good ideas but not a lot of people have access to senior engineers to run ideas through them.
We pushed their engineering team, which excited them. Buildable wanted to be a part of our success."
Steve Baker
Co-Founder